Le Weekend
So Steve got in around 11 on Friday, we shot the shit and played a quick game of settlers, a quick game that I won and then swam some laps in the Qualcomm pool. It was good just shooting the shit and you forget how close you are with your friends until you don't see them for 3 months. Steve also brought me my new copy of Mac Office:Pro. Thank God for his Microsoft discount it came in at $70 and included on top of the usual office suite a copy of Virtual Pc for Mac and Windows XP Pro. Really sweet deal because all told that package is $450.
Saturday we got up early and decided to head downtown for Comicon. I'm not really a fan of the geek arts but there was a big Simpsons display and Ray Bradbury was speaking. Plus I do have a semi geeky connection to his novel "I Sing the Body Electric", 10 points if you know why. The lineup to get in took an hour and a half and was over a mile long. Add to this the fact that it was roughly 110 degrees downtown so we decided to skip it. We took Steve around Seaport Village and past the midway and back home. Home included a quick change of clothes and then off to the beach for some body surfing. Steve was a natural and caught his first wave. That night it was off to Fidels for dinner and then back home for a surprise anniversary party for Mike and Jenn. MMM Extraordinary Desserts white chocolate cake yum yum.
Sunday we got a late start on the day, headed to IHOP and had breakfast. Steve had to fly out of Santa Ana so we didn't have much time knowing he would have to leave around 5. So we decided to hit up La Jolla cove to do some swimming with leopard sharks. It was too packed so we decided against it. However, we did have the boards in the car so we headed to Black beach to see what the waves were like. I had heard a lot about Blacks Beach mostly from surfers. There is something about the massive size of the waves there as well as the fact that it is very secluded. It requires a 15 minutes walk down the side of a very steep path to get to. The beach itself is lovely and the waves are amazing. We didn't have much time so we caught a few waves and hiked out. The hike is a disgusting vertical incline which really exhausts you after any amount of surfing.
Steve left for the airport and I went home to shower. Mike, Jenn, Steph and I decided to head to Solana Beach for some sushi at Nobu. It was the best I've had since I got out here.
Here are some pictures of my bedroom.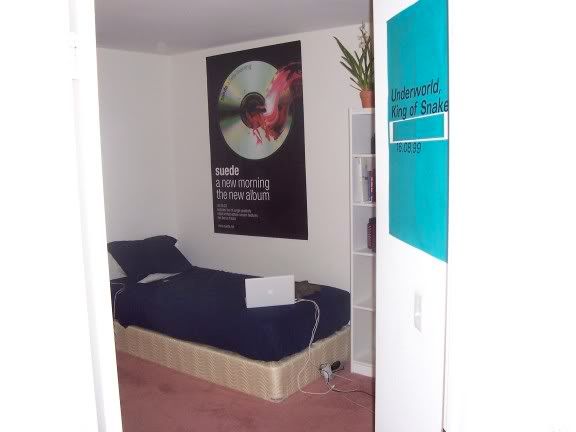 my bed and my biggest moment of buyers remorse sitting on top of it. For the record I have named the new laptop 'rosebud'. i know its unorigional as hell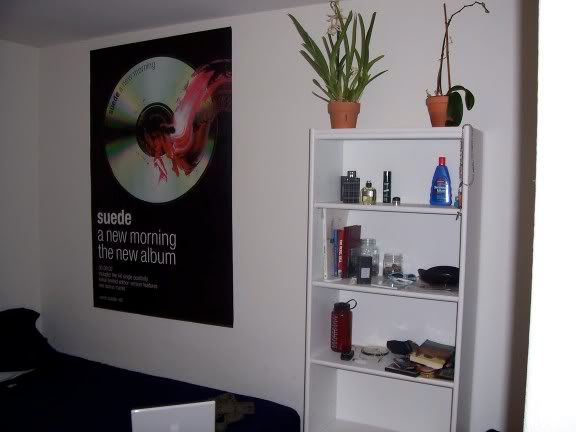 bookcase that mostly holds anything but books and largely my beauty care products like the assortment of designer colognes I have. you can also kinda sorta see my orchids.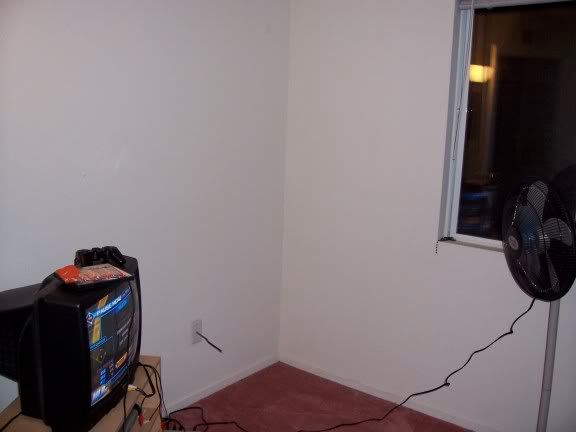 Insert desk here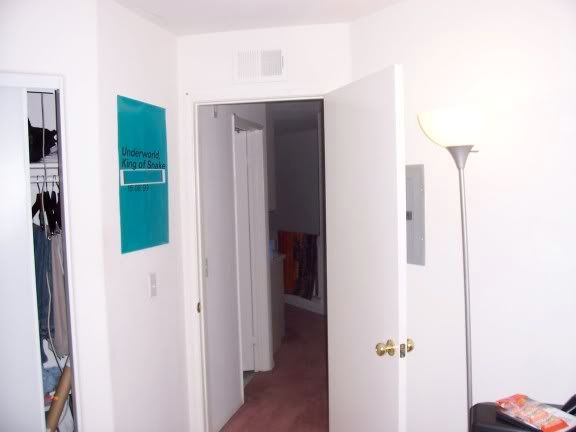 hallway and yes thats my beach towel. the beach is a life sucking force i spend all of my time trying to get there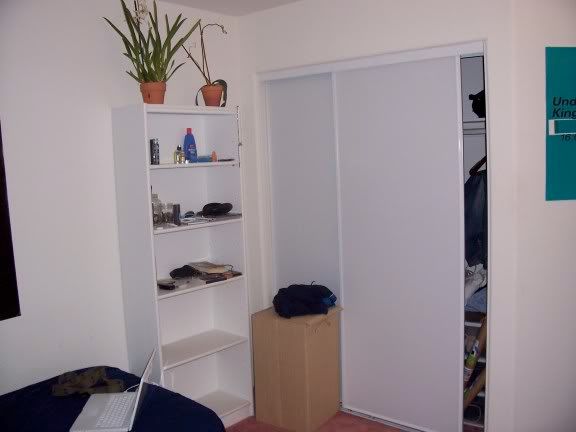 please note the small ass size of my closet. when i cam down here i only brought three weeks worth of clothes, now with rebuying the damned things almost full again